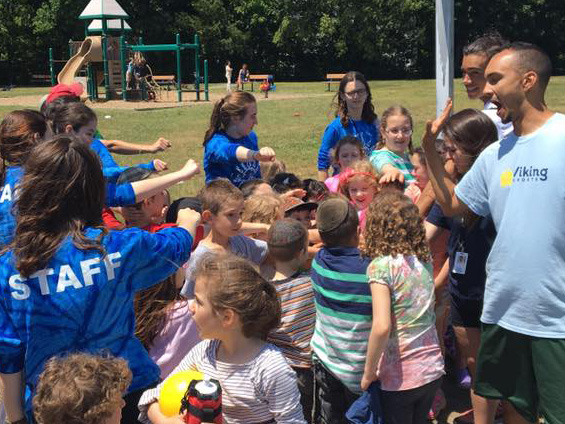 Ages:  5-12
Hours: 9:00am - 3:30pm
Camp Gan Israel is excited to announce our partnership with Viking Sports.
This summer Viking Sports will be offering their highly acclaimed sports camps at Camp Gan.  Campers will play a variety of traditional sports, some not so traditional sports, and gym games with each week concluding with our famous Tournament Day. Camp Gan counselors will work along Viking Sports staff to provide your child with an outstanding sports camp experience.
About this Camp:
Kids are divided into age based groups
Viking follows the state mandated campers to coach ratios as dictated by the CMR
Camp is fully licensed by the Newton Board of Public Health
Camp is run in conjunction with Camp Gan
Early drop off and late pick up available
Register by the week
Registration, dates and rates will be coming soon!
| Time | Activity |
| --- | --- |
| 8:30-8:45 am | Drop-off & Line up |
| 8:45-10:45 am | Kick off your day with swim lessons and free swim |
| 10:45-12:00am | Flag football– drills followed by scrimmages |
| 12:00-12:30pm | Lunch |
| 12:30-1:00pm | Ga-ga elimination games |
| 1:00-2:30pm | 3 v. 3 basketball tournament |
| 2:30-3:30pm | Capture the Flag |
| 3:30-3:45pm | Sportsmanship wrap up |
| 3:45-4:00 pm | Pick-up |
Week
Dates
All Sports Camp Fee


(in addition to General Tuition)

Week 4
July 17 - 21
$100
Week 5
July 24 - 28
$100
Week 6
July 31 - August 4
$100
Week 7
August 7 - 11
$100
General Tuition
| Number of Weeks | Tuition |
| --- | --- |
| 2 Weeks (Minimum) | $915 |
| 3 Weeks | $1,340 |
| 4 Weeks | $1,750 |
| 5 Weeks | $2,090 |
| 6 Weeks | $2,400 |
| 7 Weeks | $2,670 |
EXTENDED DAY
Want more camp? You've got it. Our Extended Day programs are available to all Campers for an additional fee of $5 per half hour. Enroll by the week or the day; whatever works best for you.
8:00 am - 8:30 am Early drop-off
3:00 pm - 4:00 pm Enrichment Hour
4:00 pm - 6:00 pm – Extend your camper's day as late as possible to give them full access to more activities.
Fridays until 5:00 pm