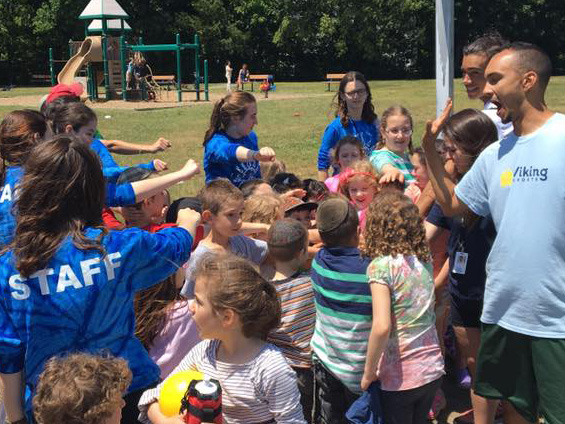 Ages: entering grades 1 through 7 in September 2017
Hours: 8:30 am – 4:00 pm
No one would argue that Boston is known for its die-hard Patriots, Red Sox, Bruins and Celtics fans. If your child is also a sports nut in the making, this is the perfect camp. Your MVP will participate in a variety of sports (basketball, flag football, street hockey, softball and soccer, to just name a few), sharpen his or her skills, take part in creative drills and learn how to be a valuable team player. During the course of this one-week program, our experienced staff will teach your child the skills needed to improve his or her game. And, to encourage first through seventh graders to play competitively, our athletic facilities include a gymnasium, athletic fields, a baseball diamond, basketball hoops, tennis courts and a ga-ga pit. Campers participate in instructional & free swim, weekly field trips & Friday extravaganzas.
*20 camper maximum
| Time | Activity |
| --- | --- |
| 8:30-8:45 am | Drop-off & Line up |
| 8:45-10:45 am | Kick off your day with swim lessons and free swim |
| 10:45-12:00am | Flag football– drills followed by scrimmages |
| 12:00-12:30pm | Lunch |
| 12:30-1:00pm | Ga-ga elimination games |
| 1:00-2:30pm | 3 v. 3 basketball tournament |
| 2:30-3:30pm | Capture the Flag |
| 3:30-3:45pm | Sportsmanship wrap up |
| 3:45-4:00 pm | Pick-up |
Week
Dates
All Sports Camp Fee


(in addition to General Tuition)

Week 4
July 17 - 21
$100
Week 5
July 24 - 28
$100
Week 6
July 31 - August 4
$100
Week 7
August 7 - 11
$100
General Tuition
| Number of Weeks | Tuition |
| --- | --- |
| 2 Weeks (Minimum) | $915 |
| 3 Weeks | $1,340 |
| 4 Weeks | $1,750 |
| 5 Weeks | $2,090 |
| 6 Weeks | $2,400 |
| 7 Weeks | $2,670 |
EXTENDED DAY
Want more camp? You've got it. Our Extended Day programs are available to all Campers for an additional fee of $5 per half hour. Enroll by the week or the day; whatever works best for you.
8:00 am - 8:30 am Early drop-off
3:00 pm - 4:00 pm Enrichment Hour
4:00 pm - 6:00 pm – Extend your camper's day as late as possible to give them full access to more activities.
Fridays until 5:00 pm